Office for Business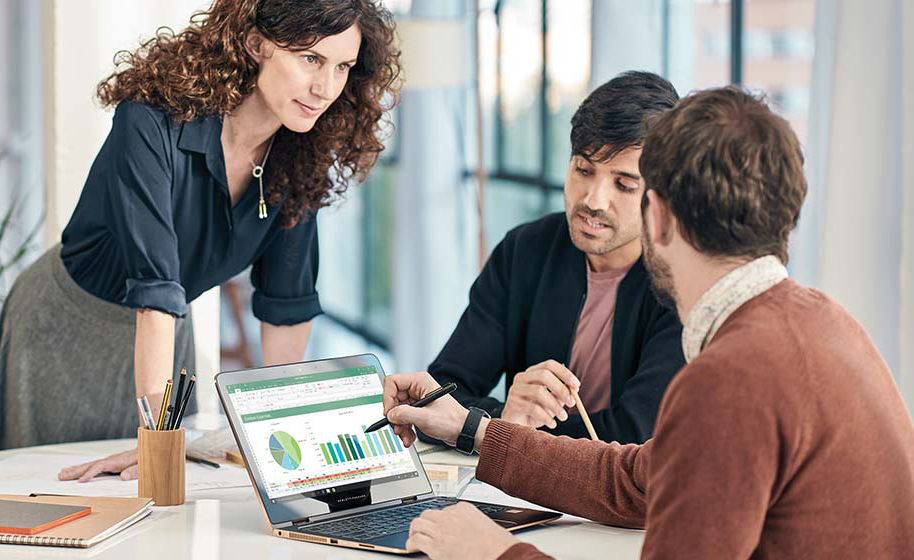 Microsoft Office 2016 is the latest version of Office. You can buy a perpetual license for Office, or subscribe during a one year period. The name of the subscription is Office 365. The one-time purchase is paid per computer. The actual subscription is paid per person.

The yearly subscription has a lot more to offer than the one-time-purchase option. However, if you only use the basics on one computer, the one-time purchase license could suffice .

What to choose: Office 365 or 2016?
The following criteria are applicable::
1. Do the users have multiple computers/tablets?
2. Do you use any extra online services (Skype/ Exchange/ SharePoint)?
3. Do you require /would you like to have access to upgrades?
4. Do you use Publisher or Access?

• If the answer is "yes" to one or more of these questions, then we would advise you to go for Office 365.
• If you have answered "no" four times, a one-time purchase of Office 2016 could possibly suit you better.
There are many more factors which come into play. If you're unsure what suits your company best, please contact our advisors.

10+ users
For companies with 10+ users, we have additional options. In Office 365 you have the option to choose flexible monthly subscriptions, with easy to adjust licenses. We can do this to make sure your Office subscriptions will always be in line with the size and dynamics of your company. Plus, we can offer a nice discount. Contact our sales team for advice and price quotes.

Summary of the most popular options
For more information please go to overview 365, Office 2016, the single product pages or www.office.com.
Suite
365 Business
365 Business Premium
365 ProPlus
365 Enterprise E3
2016 Home & Business
2016 Professional
Price
£
£
£
£
va. £
£
Licence / costs
per person per year*
per person per year*
per person per year*
per person per year*
one-time per computer
one-time per computer
Installations
5 PCs/Macs p.p.
5 PCs/Macs p.p.
5 PCs/Macs p.p.
5 PCs/Macs p.p.
1 PC/Mac
1 PC/Mac
Apps

Word

Excel

PowerPoint

OneNote




Outlook

Publisher

Access

Word

Excel

PowerPoint

OneNote




Outlook

Publisher

Access

Word

Excel

PowerPoint

OneNote




Outlook

Publisher

Access

Word

Excel

PowerPoint

OneNote




Outlook

Publisher

Access

Word

Excel

PowerPoint

OneNote




Outlook

Word

Excel

PowerPoint

OneNote




Outlook

Publisher

Access

Right to upgrade

✔

✔

✔

✔

-
-
Exchange
-

✔

-

✔

-
-
RDS
-
-

✔

✔

-
-
Skype / SharePoint
-

✔

-

✔

-
-
Online storage
1000GB
1000GB
1000GB
1000GB
5GB
5GB
* Companies with 10+ users can apply for flexible monthly subscrptions