Blue Nandu
---
Blue Nandu aims to make it easier and more transparent to order software online. All around us we see technological developments, everything gets faster and flashier, and people are bombarded with terms like 'Cookies', 'Clouds' and 'Big Data'. But developments in the presentation, purchase and delivery of software seem to lag behind. With the new website and tools provided by Blue Nandu, it can be easier for everyone.
The Nandu: the greater rhea
---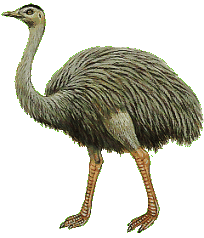 The greater rhea (Nandu in Guarani language, Paraguay) is a runner bird that lives in the wild in South America. The nandu is a distant relative of the emu and the ostrich, but in contradiction to its Australian and African cousins he won't stick his head in the sand! The nandu is a glorious bird, more humble than a peacock, but at least as proud. The nandu is a kind animal and therefore a popular resident at petting zoos.
Service
---
Blue Nandu offers a high level of service. Please feel free to contact our service team by email or phone and we will assist you with anything you need.

If your are curious about how customers think about Blue Nandu you can visit the independent review website Kiyoh:
United Kingdom
Blue Nandu

Serata Software BV
Hoogte Kadijk 21-3
1018 BE Amsterdam
Netherlands

Email: info@bluenandu.uk
Ph. UK (+44) 020-718 30 718
Ph. Netherlands (+31) 085-4019217
Ph. Belgium (+32) 02- 808 66 76